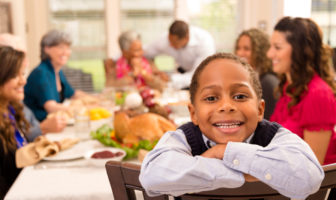 Practicing Cultural Humility this Holiday Season with Your Family
The holidays bring joy and create opportunities for families to come together. However, it is essential to acknowledge that holidays mean different things to different people. Some holidays have a history of power and privilege that may negatively impact individuals and communities. We want to recognize the importance of ensuring all feel welcome and respected while celebrating traditions and new ways of gathering.
Here are a few things to think about when strengthening your family's focus on diversity, equity, inclusion, and belonging this holiday season:
Consider

in

viting in

traditions and rituals from

others

in your community or your children's friends at school who may celebrate differently than you. It's always fun to learn something new about how others may celebrate the same holidays differently than you!

Talk to your children about their

friends and classmates

who may celebrate different holidays than your family. Ask your child's teacher

what holiday traditions are already celebrated in the classroom

to help you guide these conversations at home.

Acknowledge

if you feel as if

y

ou

did not grow up with many familial or community traditions or may not want to continue some of the traditions

your family g

rew up with.

Spend time exploring

and discussing with your children how

certain

holidays were chosen, and what holidays may be missing or need to be reconsidered.
It's always important, especially during the holidays, to build on our understanding of diversity, equity, inclusion and belongingness. The journey toward culturally humble practice is a life-long one, and involves self-reflection and welcoming new ideas, resources, and each other. Check out these further resources to help you and your family on your journey:

other articles and videos we love
Read on for tips on how to avoid breaking the bank while still enjoying the holidays together as a family.
November is National Adoption Month. This month sheds light on the positive impact adoption can have in the lives of children and youth and reflects the need for more adoptive families for youth in the foster care system.