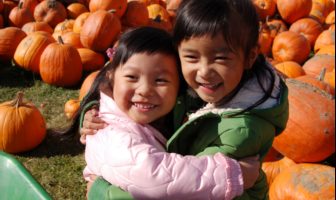 1. Pumpkin Carving
Make this popular activity easier with these templates from PBS Kids. Your kids can always draw images with these printout templates and you can help carve the pumpkin. They will still love to see their favorite character or animal glowing.

2. Treat Bags
Whether you are going trick-or-treating this year or you want to pack your kids' lunch in a festive bag, create one of these three treat bags. You will only need some simple crafting materials and your happy, eager child to sit down and make these simple and spooky bags.

3. Pipe Cleaner Pumpkins
Want some decorations around your house to compete with the neighbors? Involve your kids in this fun craft that only requires pipe cleaners and scissors. Make sure you have pumpkin colors or get creative. Find the directions here and teach your kids today.

4. Bat Trees
Create these bats with your kids and paste them on some branches in a vase inside or try attach them to a tree outside. Make the bats less scary with some extra materials like felt, yarn, or googly eyes.

5. Glitter Glue Ghosts
Help your kids create some sparkly ghosts with just three materials. Find out how here and have some boo-tiful ghosts hanging around the house this Halloween. You can even trace the ghost with glue for your younger kids, and all they have to do is pour some glitter on and shake.
6. Haunted House
Print the template from PBS Kids and let your kids get creative with their own Halloween haunted house. They may need some help with cutting but can enjoy drawing some spooky figures in each window.

7. Painted Pots
Pick up some little flower pots and have your kids decorate them with any of these three ideas or their own. Put them around the house for decoration or fill them with plants or Halloween treats.

8. Pumpkin Faces
This fun activity lets your kids learn about different shapes and get creative with their pumpkin faces. Cut some pumpkin shapes in addition to shapes for eyes, nose, mouth, and other facial features. Your kids can explore putting the shapes in different areas of the pumpkin to form a Jack-O-Lantern-looking face and then pasting them on with glue.

9. Monster Claws
These no-sew monster claws can add to a Halloween costume or be worn by your kids to get in the spirit. Pick up some cheap knit gloves and craft these with just some simple materials, scissors, and glue. Depending on the age of your kids, they can help craft them or pick out the colors and shapes they want.

10. Witch Hat
This DIY witch hat can be a great addition to a costume, even if you are prepare the day before. This simple creation may need your help with cutting and sizing but let your kids choose different colors or draw on this witch hat to make it their own. Even if you make this completely for them, they will be excited to wear it trick-or-treating.
other articles and videos we love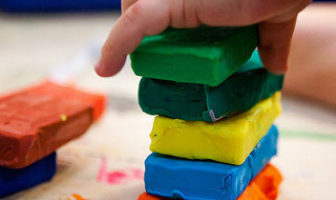 Source: handsonaswegrow.com
Check out these fun and simple craft activities to try with your child this spring.