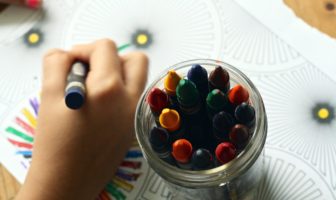 10 Crafts for Non-Crafty Moms and Dads
In this new world of social distancing, moms and dads are busier than ever. We scoured the internet for some of the simplest crafts you can do with your children, using materials you probably already have lying around. Even the non-crafty parents will appreciate these!

With only five items, this activity is simple and sure to cheer you up! Pro tip: Make the cloud a smiling sun if you prefer, just add paint or markers to your supply list.
What you'll need:
Paper plate
Cotton Balls
Tissue paper or construction paper
Scissors
Glue

2. Paint Rocks
Tried and true, this activity is sure to keep your little one busy for a while. Depending on where you live, you'll be able to find plenty of supplies right in your own backyard!
What you'll need:
Rocks (make sure to wash them first!)
Paint
Imagination

Another simple yet messy idea to let your kids be creative! Set this up in a baking sheet to try to contain the mess, drip drops of food coloring about and mix with a paintbrush or fork.
What you'll need:
Shaving cream
Baking sheet
Aluminum foil
Food coloring
Fork or paintbrush

Do you have half open bottles of bubbles lying around? Mix 3 parts bubbles with 2 parts paint and have your child blow the bubbles onto a piece of paper to create some art. Pro tip: Wait for a nice day and do this project outside!
What you'll need:
Bubbles
Non-toxic paint
Bubble wands
Paper

Making your very own colorful macaroni necklace is a fun activity for children of all ages. You can dye the pasta (similar to dying eggs) or have your children paint them and make designs.
What you'll need:
Uncooked pasta: Macaroni, Rigatoni, Penne, Ditalini, Ziti
String
Scissors
To dye your pasta:

Jar or bowl(s)
Vinegar
Paint or food coloring

To paint your pasta:

A fun way for kids to be creative and decorate a turtle's shell in many different ways – they can use crayons/markers, paints, construction paper, tissue paper, pom poms, or something else!
What you'll need:
Paper plate
Construction paper
Glue
Scissors

Let your kids become fire breathing dragons! This is a fun craft that can keep them entertained well after the craft is complete!
What you'll need:
Paper roll (toilet paper roll, paper towel roll, or wrapping paper)
Construction paper (red or green)
Tissue paper (red, orange, and yellow)
Glue
Optional: pom poms and googly eyes (can always just draw them on)

Spring has sprung, and what better way to celebrate than bringing flowers indoors!
What you'll need:
Cupcake liners (different sizes if available)
Glue
Glitter
Popsicle sticks
Paper plate
Crayons, markers, or paint

Another spring activity – create pasta butterflies and decorate them however you choose. Pro tip: Add glitter to make your butterflies sparkle, or paint on polka dots and stripes.
What you'll need:
Paint or markers
Glue
Paper
Bow-tie pasta

10. Recreate the Very Hungry Caterpillar
Author and Illustrator Eric Carle created the Very Hungry Caterpillar in his signature style. Here are 15 ways you can create your very own Very Hungry Caterpillar right at home!
What you'll need depends on which caterpillar you'll be creating. Create one or create them all!
Show us what you create by sharing a photo on social media and use the hashtag, #OneToughJob.
Happy Crafting!
other articles and videos we love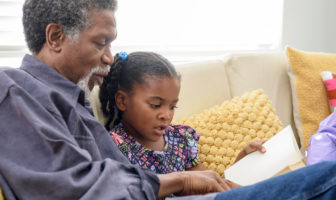 Source: BabyCenter.com
This article provides great tips and strategies for disciplining your baby as well as older children.