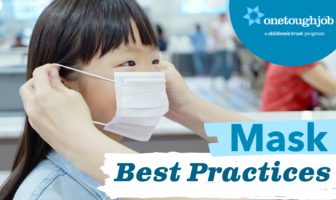 Mask Best Practices To Teach Your Kids
Wearing a mask has been a part of our daily lives for a few months now, but there's always room for better practices to keep kids safe. Especially as it becomes a "boring" part of the routine, it's easy for kids to relax their habits. Think of backpacks worn by just one strap, shoes not put away by the front door – it's natural to need a reminder. Here's our refresher for this season.

Mask in every pocket
How often have you walked out of the house thinking phone, keys, wallet… Mask! Help your child skip those scary double-takes by tucking a mask into any bag and jacket pocket they have. And tell them the mask is there, too. Being prepared will help your child feel more confident and secure, knowing they're equipped to follow protocols that keep them safe and healthy. The spare masks can be the 3—ply disposable ones, or cloth masks with ear elastics. If you're making your own masks, check out the template at the end of this how-to guide.
When to change your mask
A good rule of thumb for your child: if you'd change your clothes, it's time to change your mask. Good examples include when it's dirty, when it gets wet, or if someone else sneezes or coughs (or brushes an open cut/scrape) on the mask. This is where the spare masks come in handy!
Protect the inside of your mask
Model for your child that every time you take your mask off, it's best to remove one side and fold the mask closed, taking care to not touch the inside of the mask before washing your hands thoroughly. Simpler rule for kids under 6: no touching the inside of the mask, period. Teach your child that the inside of the mask is a 'special zone' for covering their nose and mouth only, to keep them healthy. If your child is pulling the mask down to a 'chin strap', redirect and suggest that you practice speaking loudly and clearly enough to be heard through a mask – model this for your child when talking to neighbors and friends by not pulling down your mask either.
Get their input
The best way to form safe habits when it comes to mask-wearing is to help your child feel invested in the process. Experiment with different kinds of effective masks (multi-layer fabric or disposable surgical masks) and see if there's one your child prefers. If you're making your own masks, invite your child to pick the fabric ends that will be used. For the older kids, can they help wash the masks? Select a spot for some mask hooks (think coat hooks, but smaller), and help you hang them up? Picking bite-sized responsibilities, especially for older children, can help them feel a sense of ownership over the process and increase the chances they'll behave safely.
What are some ways you've helped your children get accustomed to wearing masks when out of the house? Let us know in the comments!
other articles and videos we love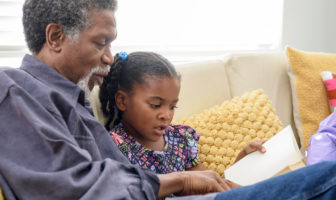 Source: BabyCenter.com
This article provides great tips and strategies for disciplining your baby as well as older children.